Automatic Water Level Controller
Understanding the requirements of clients, we are engaged in offering an exclusive range of Automatic water level controller, water level controller, Over head Water tank control, automatic water pump controller, fully automatic water level controller, automatic water level controller for overhead tank, water level float switch, water tank level controller, water tank level control system, water tank overflow control, water level control system, best water level controller, float switch water level controller in Hyderabad Telangana. which is an advance instrument that control water pumps. It controls the pump as per levels in the overhead tanks.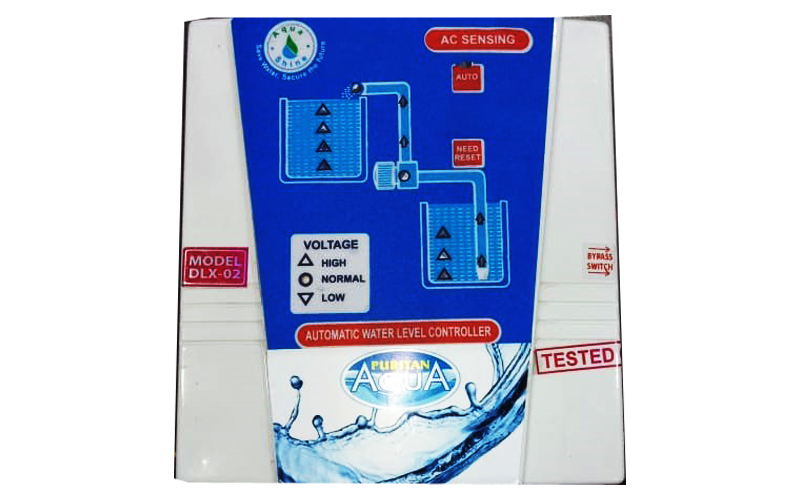 These water level controllers have provision to switch on the pump automatically as per time set. The offered Water Level controller is manufactured with best quality material, hence is very durable. It is available in several specifications as per the requirement of clients.
Automatic Water Level Controller Features
Automatically Turn On/OFF Pumps
Automatic Water Level Controllers can maintain an exact preset water level
Automatic Water Level Controller can be installed in hotels, home, hospitals, Factories, Commercial Complex, Apartments etc.
The Power used by this water level controller is low and negligible.
Automatic Water Level Controller are compact, easy to installed, easy to move
The sensor can be free of corrosion and the maintenance cost is very low
Compact Design.
Automatically adjusts water level.
Save water and money by using less electricity
Can Help avoid seepage of roofs and walls due to tanks overflowing
Automatic operation saves you manual labor time.
Consume a small amount little energy, perfect for on going operation
Indicates Water level in any type of storage tank or body of liquid