Water Cooler
PURITAN AQUA R.O.WATER SOLUTIONS Uniquely situated amongst the acclaimed business names of the industry, we are affianced in offering a premium quality range of Water Coolers in Hyderabad. which is verified carefully by our quality exports. The Offered Water Coolers are highly appreciated in the market for their features such as easy installation, less maintenance, durability, high performance and Long life. Puritan Aqua offer a huge variety of Water storage water coolers to meet your corporate and commercial needs.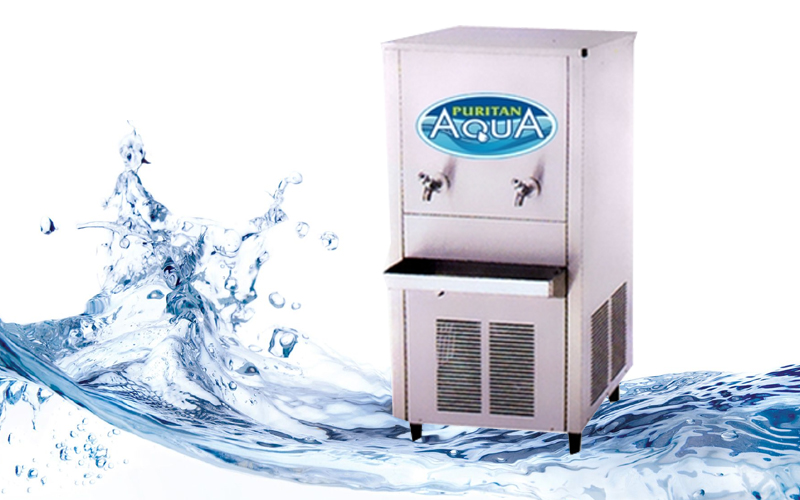 Our Water Coolers are made with stainless steel tanks which are wrapped with copper cooling coils for maximum efficiency to provide running cold water at a right temperature of drinking water. Water coolers manufactured by us mounted on Stainless steel body ensures no rusting, no corrosion. Also stainless steel tank water has always been considered as safe drinking water since many year. In addition, our regarded customers can benefit this Water Coolers at industry set costs. we have been able to deliver the offered Water Coolers in the limited time period.
Water Cooler Key Features
Fast cooling
Power-saving
Reliability
High Quality
Eco-friendliness
Leak proof
Plastic legs
If your looking for more information on Water cooler we request you to Contact us or call us on 09030238002.
Also we offer Wide range of Water purifiers and Water softener systems. We have been providing water solutions to commercial and Industrial water systems and Providing our customers highly qualitative Commercial Water Purifier Repair And Service, Industrial Water Purifier Repair And Service in Hyderabad.